Downloads
The Greatest Day - AI Title No. 36 - 2009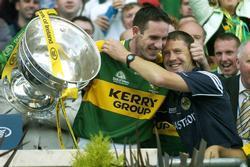 Recorded: 2009
Length: 45mins

play
pause
stop
min volume
max volume

A 36 part series documenting the story of Kerry's All Ireland Senior Football Championship victories. Presented by John Drummy, written by Joe O' Mahoney and researched and produced by the Radio Kerry's sports team.
Radio Kerry - The Voice of the Kingdom
* To download this audio to your computer in mp3 format, right click on this link
and choose 'Save Target as' or 'Save Link as'.
Sections
Search Downloads