Terrace Talk - The Website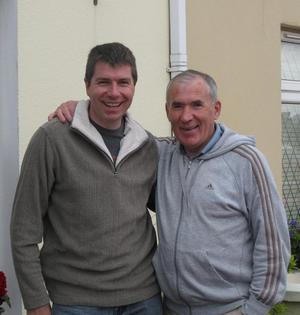 Alan Groarke and Weeshie Fogarty
This website is the collaboration of people around the world with a deep passion and love of Kerry Football. From Colorado to Milan, with Killarney in between! A Moyvane man, Alan Groarke initially contacted Weeshie with the idea of podcasting the Terrace Talk show. The idea expanded into getting all of Weeshie's writings and interviews available online for Kerry fans all over the world to enjoy. In addition, Niall Flynn and Tim Slattery devoted their time to chronicling the history of Kerry Football and the long hours they spent pouring over statistics is appreciated by one and all - now all the legends who have donned the Green and Gold down through the years will never be forgotten.
Feel free to leave a message on the Guestbook for Weeshie or his Legion of adoring fans.
Acknowledgements
A special thanks to
Sportsfile
and
The Kerryman
newspaper for allowing us to use some of their wonderful photos on this website. TJ Flynn was also generous enough to contribute all of the photos he collected while creating the wonderful
Princes of Pigskin
book.
Monsignor Liam Brosnan
has also provided numerous rare and historic Kerry GAA photos for the website. Other contributors to the website include
Brendan O Sullivan
,
Eamonn Fitzgerald
, Tim Slattery and Niall Flynn.
We would also like to express our gratitute to Radio Kerry for allowing us to reproduce some of their broadcasts.