Downloads
Newstalk Interview about the Secrets of Kerry DVD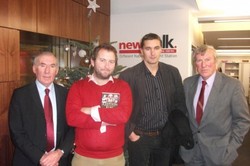 Recorded: 2010
Length: 20mins

play
pause
stop
min volume
max volume

Ger Gilroy from Newstalk Radio interviewed Weeshie Fogarty, Maurice Fitzgerald and Donie O Sullivan about the 'A Captain's Story - Secrets of Kerry' DVD.
Special thanks to
Newstalk
for allowing us to re-broadcast this interview.
* To download this audio to your computer in mp3 format, right click on this link
and choose 'Save Target as' or 'Save Link as'.
Sections
Search Downloads