Downloads
Kieran Quirke's victory speech for Duagh - 2012 North Kerry Champions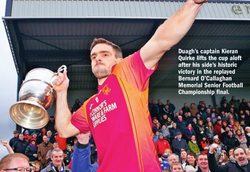 Recorded: 2013

play
pause
stop
min volume
max volume

The magnificent Bernie O Callaghan Cup was resting on a little table as board chairman Billy Enright stepped forward to do the honors. And it was then that Duagh's magnificent captain and leader Kieran Quirke entered the scene. Without a moments hesitation he jumped on to the table, accepted the cup from Billy and then with one mighty sweep raised it high in the air, an act not only of acceptance but total defiance in many ways which brought a thunderous cheer from the success starved Duagh supporters who had travelled from far and wide to be there. It was a very special moment as cameras flashed, flags and banners waved, grown men cried, children were lifted high in their fathers arms and cheer after cheer rent the biting cold January air. Fifty years of blood, sweat and tears, fifty years of fruitless endeavor was swept aside in that one magical act as their captain hoisted the gleaming trophy high above his head. It was one of those special Kerry football moments that can be experienced only at certain times and is one of the reasons why Kerry football has always and will be there or there about at the top of the honors list at minor, junior, under twenty one and senior grade. Events such as we witnessed here are in many ways one of the "secrets of Kerry". Kieran then went on to give a wonderful rousing acceptance speech, one of the best I have ever heard at a Kerry district championship final, and I have had the privilege of attending finals in all the areas.
* To download this audio to your computer in mp3 format, right click on this link
and choose 'Save Target as' or 'Save Link as'.
Sections
Search Downloads