Miscellaneous
Weeshie Vs Beyonce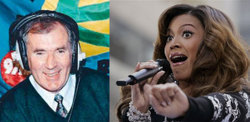 Recorded: 2010
Length: 1min

play
pause
stop
min volume
max volume

Weeshie had some difficulty pronouncing Beyonce's name on Terrace Talk after he discovered his sound engineer had gone to Dublin for her gig. Newstalk's Off the Ball team provided a remix of Weeshie's attempts to pronounce her name.
* To download this audio to your computer in mp3 format, right click on this link
and choose 'Save Target as' or 'Save Link as'.
Sections
Search Downloads