Interviews
Nuala Moore - The Ice-Swimmer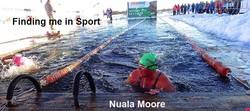 Recorded: 2016
Length: 8mins

play
pause
stop
min volume
max volume

Nuala Moore has always had water in her veins – her father was a fisherman and as a child she swam in Peddlers Lake in West Kerry. She recalls her journey through ice-swimming and the enormous challenges she faced in pursuit of her sport. Her determination has helped her to overcome obstacles in both life and sport and she has become a winner in her sport. She swims in sub-zero temperatures and has competed internationally. In this episode, she tells us about the insight she has gained into herself and her own life through her sport.
---
"Finding Me in Sport" is a series created by local radio producer Murt Mulcahy. The series features five athletes from around the county. Each episode is 8 minutes in length and portrays each athlete's strength, determination and hope, for which Kerry people are highly renowned. The series was nominated for a PPI award for Best Sports Story in 2016.
* To download this audio to your computer in mp3 format, right click on this link
and choose 'Save Target as' or 'Save Link as'.
Sections
Search Interviews