Interviews
Roy Guerin - The Paralympian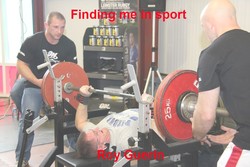 Recorded: 2016
Length: 8mins

play
pause
stop
min volume
max volume

Roy Guerin has represented Ireland at the Paralympics in Atlanta, Beijing and London. Starting out in athletics, he then progressed to power-lifting and became the first Irish power-lifter to compete for Ireland for over 50 years at the London Games. Roy's disability spina bifida does not prevent him from being competitive in sport – in fact it is his determination and drive that really makes itself known when he speaks. In this episode, he speaks about how he has used sports to overcome his personal struggles and how his family and friends have been, and continue to be a major influence in his life. His story will inspire you.
---
"Finding Me in Sport" is a series created by local radio producer Murt Mulcahy. The series features five athletes from around the county. Each episode is 8 minutes in length and portrays each athlete's strength, determination and hope, for which Kerry people are highly renowned. The series was nominated for a PPI award for Best Sports Story in 2016.
* To download this audio to your computer in mp3 format, right click on this link
and choose 'Save Target as' or 'Save Link as'.
Sections
Search Interviews