Interviews
Monika Dukarska - The Rower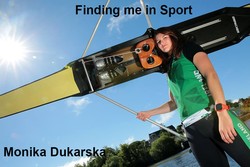 Recorded: 2016
Length: 8mins

play
pause
stop
min volume
max volume

Monika Dukarska is a female rower representing Ireland in a an extremely physically challenging sport. She moved to Killorglin from Poland in 2006 at the age of 16, without a word of English, and since then she has managed to excel in her sport beyond her wildest dreams. She excellently balanced her studies with her training schedule, and has become successful in both areas. She achieved a Research Masters in Entrepreneurship in 2014 – no mean feat for a girl who could not even speak the language when she arrived here first. Her academic determination is mirrored in her sporting career – she became the World Coastal Champion in 2009. She is a determined and fascinating character with great strength, courage and resilience. Her story is inspiring and is not to be missed.
---
"Finding Me in Sport" is a series created by local radio producer Murt Mulcahy. The series features five athletes from around the county. Each episode is 8 minutes in length and portrays each athlete's strength, determination and hope, for which Kerry people are highly renowned. The series was nominated for a PPI award for Best Sports Story in 2016.
* To download this audio to your computer in mp3 format, right click on this link
and choose 'Save Target as' or 'Save Link as'.
Sections
Search Interviews