Athletics
Gillian O Sullivan (2)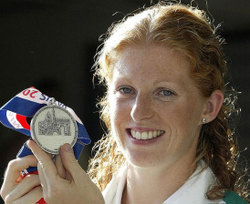 Recorded: 2003

play
pause
stop
min volume
max volume

Gillian O'Sullivan wrote herself into history's pages in August 2000 when she became the first female Olympian from Kerry. Now one of Ireland's most promising young athletes, Gillian has returned from the 2003 World Championships with a silver medal for the 20KM walking event. This makes Gillian the third Irish athlete to bring back a medal from this event.
A world class athlete, she was born in the Parish of Minish just a few miles from Killarney town. It was the morning of Thursday September 28th as the smiling, joyful face of Gillian O'Sullivan filled our T.V screens. She had just finished in 10th place in the 20km walk in the Sydney Olympics and she was giving rightful expression to the elation that all athletes feel when a goal has been achieved. Her parents Pat and Alice were there to see her finish as she proudly wore the Irish colours.
Gillian recently became the first Irish athlete to set a new world record for nearly 90 years as she smashed another world race walking record. Gillian's sporting life began as a young girl at the local football field, and from these small beginnings came a young lady whose greatest days are still ahead.
Gillian is also the world record holder for indoor and outdoor walking distances. A magnificent achievement. The Olympic motto of "Litius, Altius, Fortius" (swifter, higher and stronger) motivated this exemplary young Killarney girl in her pursuit of perfection. We hope that in the great city of Athens where Socrates and Plato sought truth and wisdom, Gillian will reach her sporting acropolis.
Topics discussed in this interview
Recorded in her home of Minish, this interview sees Gillian O'Sullivan fresh from her
fantastic performance in the 2003 World Athletics Championships in Paris.
* To download this audio to your computer in mp3 format, right click on this link
and choose 'Save Target as' or 'Save Link as'.
Sections
Search Interviews