Athletics
Bob Tisdall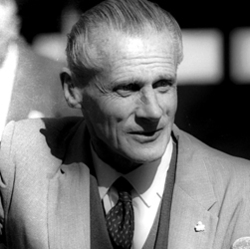 Recorded: 2004
Length: 5mins

play
pause
stop
min volume
max volume

This short interview with Bob Tisdall is without doubt both historic and unique. Weeshie spoke to him at his home in South Africa. He died shortly after this interview on July 27th, 2004, aged 97 years.
It was the last interview this Irish sporting legend ever gave and you can here it here.
He was one of the oldest living Olympic champions and Irish athletes, winner of the 400 meters hurdles at the Los Angeles Olympics in 1932.
Mr. Tisdall, who grew up in Nenagh and Dromineer in Co Tipperary, was born in Ceylon - now Sri Lanka - on May 16th, 1907. At the same Olympic Games another Irishman, Pat O'Callaghan won the first of his two Olympic gold medals in the hammer throwing. Mr. Tisdall was educated at Cambridge University and served as an army officer in South Africa during World War II. At the age of 93, he jogged 500 yards with the Olympic torch on its route to the 2000 Olympic Games in Sydney. In September 2002 a life sized bronze statue of Tisdall and two other Olympic champions with Nenagh roots, Johnny Hayes and Matt McGrath, was unveiled in the town by the 1956 15,000 meters champion, Ronnie Delaney.
* To download this audio to your computer in mp3 format, right click on this link
and choose 'Save Target as' or 'Save Link as'.
Sections
Search Interviews