Athletics
Eamonn Coghlan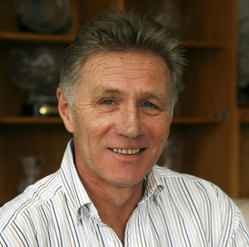 Recorded: 2003
Length: 17mins

play
pause
stop
min volume
max volume

Eamonn Coghlan was one or Ireland's greatest ever athletes. Born in Dublin he was a champion, as a schoolboy he went to Villanova University in America in 1972 where he came under the wing of the great coach Jumbo Elliot. Eamonn won 11 Irish track and field titles and he regularly broke the four minute barrier for the mile as he won a host of American titles. In his first Olympics in Montreal in 1976 he finished fourth in the 1500m.
Winning everything indoors in America he was affectionately known as the chairman of the boards. The 1980 Moscow Olympics saw him agonisingly finish once again in fourth place. He was the first man to run 350 indoors and then went on to win the World Gold Medal in the 5000m. He won Wanamaker miles in the Millrose games in America, he also competed in the Soul Olympics and then became the first man over 40 years of age to break the four minute barrier.
Eamon Coughlan will always be remembered as one of our greatest athletes. And we are privileged to feature him on Terrace Talk.
Topics discussed in this interview
Weeshie Introduces Eamonn to the audience. Eamon Tells us what it takes to become an Olympian and why he is called "Chairman of the Board".
Eamonn discusses the methods he uses when training in hot weather or high altitude and how over training affected his career, "diasppointed but no regrets".
* To download this audio to your computer in mp3 format, right click on this link
and choose 'Save Target as' or 'Save Link as'.
Sections
Search Interviews