In Conversation
Brent Pope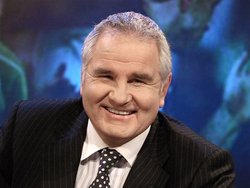 Recorded: 2005
Length: 58mins

play
pause
stop
min volume
max volume

Brent has worked for RTÉ Sport for over 12 years and has also appeared in many crossover programmes such as The Restaurant, The Den, The Afternoon Show, The Hook and Popey Roadshow, The Late Late Show and various Travel programmes. He has a regular feature on RTÉ Radio, Newstalk 106 and Murray Deaker in New Zealand.
Pope was selected in the original 1987 New Zealand Rugby World Cup training squad, but had to withdraw before the tournament got underway due to an injury in the final All Black trials.He came to Ireland in 1991 where he played for both St Marys and Clontarf RFC. Pope successfully coached both clubs to 3 separate National Division titles, 3 All Ireland Floodlit Cups, and 2 Leinster Senior Cups.
* To download this audio to your computer in mp3 format, right click on this link
and choose 'Save Target as' or 'Save Link as'.
Sections
Search Interviews