In Conversation
Patsy Lynch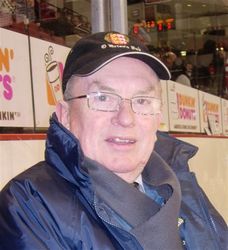 Recorded: 2012
Length: 59mins

play
pause
stop
min volume
max volume

Patsy Lynch is one of the most knowledgeable people in relation to the sport of greyhounds in the county of Kerry. He has literally grown up with the sport since his time as a young boy living in Tralee. He has been involved in all aspects greyhound happenings and in this fascinating interview Patsy talks for the first time all about the history of the long tails in The Kingdom. He has been a commentator, journalist, reporter for Radio Kerry and has attended coursing and track meetings all over England and Ireland. Here his passion for the sport comes shinning through as he recalls great days and legendary names of this great sport. Another historic Terrace Talk interview.
Topics discussed in this interview
* To download this audio to your computer in mp3 format, right click on this link
and choose 'Save Target as' or 'Save Link as'.
Sections
Search Interviews