In Conversation
Dzogchen Beara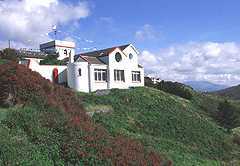 Recorded: 2012
Length: 38mins

play
pause
stop
min volume
max volume

Weeshie was joined in studio by Matt Padwick and Anne Walsh to talk about the Dzogchen Beara Centre, based in Cork. This retreat centre is inspired by Tibetan Buddism and is open to one and all. They offer holiday cottages and hotel accomodation for those who wish to enjoy the scenery and environment, and just get away from life for a while.
Guests may chose to join the daily guided meditation sessions which are held in the shrine room which has floor to ceiling windows overlooking the ocean. Or, people sometimes attend to specifically learn or practice meditaiton.
A fascinating interview - on Wednesday, 23rd May on In Conversation.
Topics discussed in this interview
* To download this audio to your computer in mp3 format, right click on this link
and choose 'Save Target as' or 'Save Link as'.
Sections
Search Interviews