In Conversation
Sean Walsh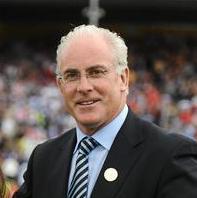 Recorded: 2009
Length: 44mins

play
pause
stop
min volume
max volume

Sean Walsh is a native of Moyvane in North Kerry, home of one of Kerry's greatest ever midfielders Con Brosnan. Sean served for many years as an exemplary Kerry County Board Chairman, overseeing numerous All Ireland victories. He is at present chairman of the Munster council and he would be many people's choice to go on and eventually become GAA President. In this interview he talks about his young days growing up in the village of Moyvane, his parents, his playing days and the trials and tribulation of being chairman of the most successful county in the GAA.
* To download this audio to your computer in mp3 format, right click on this link
and choose 'Save Target as' or 'Save Link as'.
Sections
Search Interviews