Literary
Garry McMahon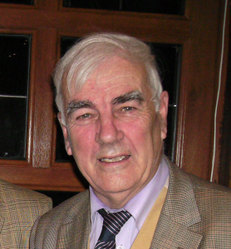 Recorded: 2002
Length: 50mins

play
pause
stop
min volume
max volume

A native of Listowel and a son of "The Master", the late Bryan McMahon, who had an international reputation as a writer, dramatist, folkorist and ballad maker.
In his youth Garry played hurling and football for his county and won All Ireland senior football medals in 1959 and 1962. He has the honour of scoring the fastest goal in the football final in 1962, coming as it did, thirty four seconds after the throw in.
He has composed two masses in Irish "Aifreann na Riochta" and Aifreann Ar Sinnsear" and is also a ballad maker and singer well known in traditional singing circles through the country. He has practised as a solicitor in Newcastle West for the past forty years where he lives with his wife Joan.
They have three children, Gearoid, Treasa and Rossa.
** Garry passed away on March 6th, 2008 aged 70.
Topics discussed in this interview
Duine Le Dia, The Munster Final, The Old Kerry Footballer, Dingle Races, The Champion. A song for Christy Ring, A lament for Paddy Ban, Steve Casey From Sneem, Buatoiri Craobh Ciarrai. The Kingdom's Green & Gold, A Ballad For The Banner, Who Can Beat The Kingdom Sweet, The River Is A Crow, Cois Tine. Mick O'Connell - The Pride Of The Kingdom.
* To download this audio to your computer in mp3 format, right click on this link
and choose 'Save Target as' or 'Save Link as'.
Sections
Search Interviews