Literary
John B. Keane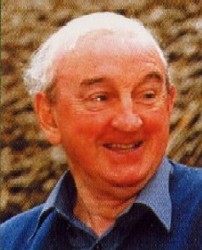 Recorded: 2002
Length: 1hr 12mins

play
pause
stop
min volume
max volume

One of Kerry's greatest sons, this world-renowned author and playwright from Listowel, Co. Kerry was a literary colossus of the last century. His death on May 30th 2002 was mourned at home and abroad. John B. had a great love for all things Kerry. On this unique and wonderful Terrace Talk, he joined Weeshie in studio to talk for 90 minuets in his won special way about his life and sporting times.
John B. was one of Ireland's most prolific literary figures of the 20th century; a playwright, poet, novelist, essayist and ballad writer. Many people will say that there is not a home in Ireland without a John B. Keane book. Honorary university doctorates, the Gradam award and the Pen award (given by the society of Irish writers) all came his way, and indeed many other national and international awards.
Born in 1928, John B. Keane's massive volume of work include 18 plays and 32 works of prose and poetry. "The Bodhran Makers" is regarded by many critics as his best novel and "Durango" and "The Field" were both made into films, the latter starring another Irish legend, Richard Harris. John B. had an incredible gift for relating to the ordinary people who loved his work.
Keane's plays have been staged in theatres around the world. His play "Big Maggie" ran for 63 nights on Broadway. This is probably the most historical and wonderful of all Weeshie's Terrace Talk programmes. It was John B. Keane's last interview before his death.
Topics discussed in the Interview
John B. discusses his earliest memories of the GAA. John B's playing style, "The Man From Clare", and some friends ring in. More anecdotes from friends, and a poem and a song from John B. John B's favourite position on the field, and his son and daughter reminisce, and even more stories. Tim Kennely rings in; Praise, a presentation and a song for John B.
* To download this audio to your computer in mp3 format, right click on this link
and choose 'Save Target as' or 'Save Link as'.
Sections
Search Interviews