Miscellaneous
Jerry Hayes and Mike Carney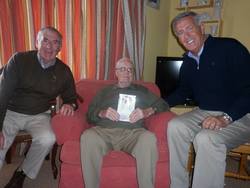 Recorded: 2013
Length: 31mins

play
pause
stop
min volume
max volume

From the Great Blasket to America. I met up recently in Dingle with Mike Carney and his son in law Jerry Hayes who wrote the book for Mike, the oldest living native Blasket Islander. It was one of the most amazing experiences of my life to sit down with this 92 year old man and listen to his account of a lost world. He was born on the Great Blasket Island in 1920. Raised in that unique, isolated Irish-speaking community, Mike left in 1937 to seek a better future in Dublin – and eventually in America. The death of his younger brother on the island without a priest or doctor in 1947 set off a chain of events that led to its evacuation. Mike played a pivotal role in the process, lobbying Éamon de Valera to relocate the remaining islanders living in increasingly desperate conditions. Mike settled in Springfield, Massachusetts, with other former islanders. While taking advantage of opportunities in his adopted country, he never lost his love for the country of his birth, saying "it's like loving both parents".
* To download this audio to your computer in mp3 format, right click on this link
and choose 'Save Target as' or 'Save Link as'.
Sections
Search Interviews