Murt Mulcahy
John Lenihan - The Mountain Runner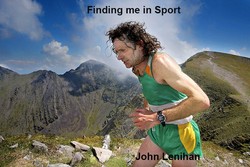 Recorded: 2016
Length: 8mins

play
pause
stop
min volume
max volume

John Lenihan is a legendary mountain runner from Ballymacelligott and has won close to 500 races during a career spanning from 1960. He is a brave and charismatic character. His story was published in June 2015, aptly entitled 'Tough as Leather'. This episode delves behind the running man on the mountain and uncovers his remarkable story of resilience, courage, success, sadness and inspiration.
---
"Finding Me in Sport" is a series created by local radio producer Murt Mulcahy. The series features five athletes from around the county. Each episode is 8 minutes in length and portrays each athlete's strength, determination and hope, for which Kerry people are highly renowned. The series was nominated for a PPI award for Best Sports Story in 2016.
* To download this audio to your computer in mp3 format, right click on this link
and choose 'Save Target as' or 'Save Link as'.
Sections
Search Interviews