Specials
Tribute to Dr. Jim Brosnan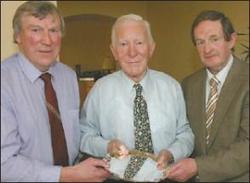 Recorded: 2010
Length: 1hr 1mins

play
pause
stop
min volume
max volume

Jim Brosnan was one of Kerry's greatest footballers. Son of the legendary Con from Moyvane he is now retired from his profession as a doctor in Dingle. In February 2010, friends arranged a huge tribute dinner for Jim and former team mates and opponents came from all over Ireland to pay their tributes in what was a magnificent event. Weeshie was there to record this historic occasion and now it is available to you to listen and enjoy the voices of some of the greatest players ever to play the game as they tell Weeshie why Jim Brosnan is a hero to them.

Sean O'Sé sung Mo Ghile Mear and The Valley of Knockanure. Jim's brother Jerry sang The Boro and Gleann. Others interviewed were Hugh O Flaherty, Michael Crowe, Sean Murphy, Sean O Neill and Maurice Hayes from Down, Seamus Conaty from Cavan, Mick Gleason, Donie O Sullivan, Nell Higgins, Derry Crowley, Johnny Culloty, Tom Prendergast, Dara O'Cinneide and Din Joe Crowley, Dr. Jim himself and his son Conor also spoke with Weeshie.

Listen to another interview Weeshie did with Dr. Jim in 1999.
* To download this audio to your computer in mp3 format, right click on this link
and choose 'Save Target as' or 'Save Link as'.
Sections
Search Interviews