Tributes
Tribute to John Egan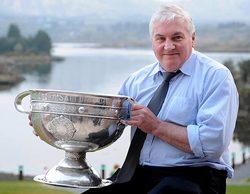 Recorded: 2012
Length: 10mins

play
pause
stop
min volume
max volume

Tribute by Micheal O Muircheartaigh to the late great Kerry footballer John Egan who died on April 8th at the age of 59.
One of the greatest corner forwards to have ever played the game, he captained the Kerry team that came agonisingly close to winning an unprecedented five successive All-Irelands in the final of 1982. He retired two years later after winning his sixth All-Ireland medal. He also won four National League titles, four Railway Cup successes with Munster and was awarded five All Stars in 1975, 1977, 1978, 1980 and 1982.
John Egan pulled on the Green and Gold in 41 championship games, 65 league games and scored 35 goals and 118 points.
Listen to a wonderful hour and a half interview with John Egan from 2007
.
* To download this audio to your computer in mp3 format, right click on this link
and choose 'Save Target as' or 'Save Link as'.
Sections
Search Interviews