Tributes
Where the Road Takes Me - Paidi O Se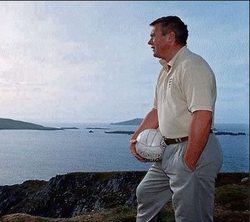 Recorded: 2013
Length: 44mins

play
pause
stop
min volume
max volume

Our sincere thanks to John Greene of C103 radio for permission to use this wonderful program on Paidi. One of the best loved radio presenters in Cork, John worked for Radio Kerry for many years presenting many of the most listened to programs including the flagship Kerry Today program. He has a great love of sport and as he recalled "my late father always instilled in me to respect and admire footballers and hurlers from all counties. I spent an amazing March morning with Paidi in his beloved Ard-A-Bhothair in Ventry during the recording of this program. I was so proud to be with him and guarded that special memory from that moment on. I was stunned and so saddened to hear of his death. I sincerely hope that his bed in sporting heaven is soft, gentle, and peaceful. Ni bheith a leitheid airis".
Beautiful words from John and we are so fortunate that he has left us with this very special account of Paidi's love for his native place. A stunning piece of radio.
* To download this audio to your computer in mp3 format, right click on this link
and choose 'Save Target as' or 'Save Link as'.
Sections
Search Interviews