Weeshie's Picks
Places We Play - Ireland's Sporting Heritage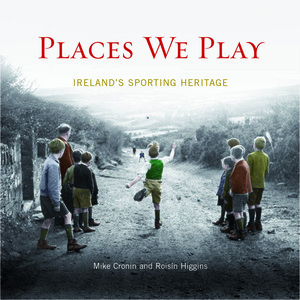 by Mike Cronin and Roisín Higgins (
2011
)
Price: €19.99
How many of us ever take the time to think about the history of Ireland's sporting sites? This book urges us to do just that. From national stadia to local pitches, from exclusive golf courses to derelict sites of former sporting glory, it explores the spaces where ordinary people have congregated and community identities have been formed; why sporting sites are located in particular places and how they have changed over time; what kinds of men and women have gathered together in these venues to compete, spectate or place a bet.
Tracing the history of sport in modern Ireland, the authors explain the impact of railways, the military, landed wealth, local tradesmen and national politics on the development of the built sporting landscape. The story of Ireland's sporting heritage is told through the history of sites ranging from the familiar to the less well known; from the fishing estate in Ballynahinch, County Galway, developed by the record-breaking cricketer Ranji, or the racecourse at Down Royal where a winning horse in 1690 went on to serve the Williamites in the Battle of the Boyne. From Grand Prix to lawn tennis, Places We Play delves into all aspects of Ireland's sporting sites. The site of the first All-Ireland hurling final in Offaly is now home to a supermarket while the site in Belfast's Ormeau Park where North of Ireland Cricket Club played is now a housing estate.
The heritage of Ireland is usually thought of in terms of landscape, big houses, battlefields, language and civic buildings. However, while Ireland is often termed 'sports mad', there has been no recording or celebration of the heritage built around Ireland's sporting activities. This book explores how Ireland developed a sporting infrastructure, celebrates significant sites across the country, and highlights why such spaces are important to the history of Ireland. From the Aviva stadium to the smallest GAA club, from exclusive golf clubs to derelict sites of former sporting glory, Ireland is dotted with sporting spaces. With the emergence of teams and seasons, sports clubs had to think about where they would play. Grounds and tracks were purchased, stands erected and facilities built. These places form a central part of Ireland's heritage with their richness of history, architecture and sporting endeavour.