Weeshie's Picks
Forging a Kingdom - The GAA in Kerry 1884-1934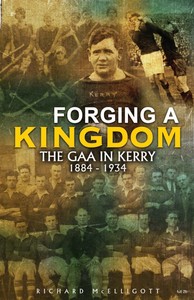 by Richard McElligott (
2013
)
Price: €14.39
County identity is fundamental in the GAA. Kerry is perhaps the most successful county in the history of the Association and by 1934 it was one of the bastions of the GAA. For the first time, the profound impact of the GAA on Irish society is examined at a county level. The origins and development of the GAA in Kerry in its first fifty years are charted, and the factors which led the Association to become Ireland's most popular sporting organisation are considered.
The evolution of the unique Kerry football tradition and how the rise of Kerry as a footballing power was fundamental to the GAA's national sustainability and success are highlighted. Yet, conversely, the failure to establish a hurling on anything like an equal footing in the county is also examined. The membership of the Kerry GAA, their social and political backgrounds, and the formation of the county's clubs and their rivalries are investigated. Likewise, the Association's links with cultural and revolutionary movements – the Gaelic League, the Catholic Church, the IRB and Sinn Féin – are explored. The role of the GAA, both nationally and locally, in events such as the 1916 Rising, the War of Independence, and Civil War, and the effects of political violence on the organisation are outlined. After the Civil War a senior Kerry side emerged politically divided yet united by the sport they loved, the symbol Irish society craved in its search for unity. Yet their story is not as simple as it has previously been told, and Kerry remained a political hotbed for Republicanism which continually manifested itself among the hierarchy of the GAA there in the years up until 1934 and beyond.
Despite this, by 1934 Kerry's unique tradition within the Association had been forged. This is an absorbing insight into the multifaceted world of the GAA since it origins in pre-independence Ireland.