Books
36 and Counting...Kerry's Football Story to 2009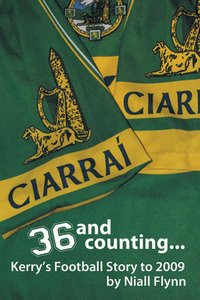 by Niall Flynn (
2009
)
Price: €12.00
Finally, a definitive source on the Championship games of the Kerry teams. No publication in any county has ever come close to the level of detail in this book. All the games, all the scorers, and a unique series of statistical views on Kerry's scoring prowess. Combined with the events of the day, each year is conveniently displayed for the reader. Who got the goals and who got the points; who actually played…all of the questions that you might have can be answered here with ease.
Kerry's record in Championship Football is well-known through stories and legend-like status adorning their finest players. Now, the rest of the field can be filled out as well. The Register of Players from 1928 to 2009 contains the career achievements of the three hundred and eighty-three men to appear in the green and gold in those eighty-two years. From John Joe Sheehy to Mike Sheehy, from 1932 Olympian Eamonn Fitzgerald to Maurice Fitzgerald, from Gawksie to the Gooch…they are all here.
They say that if we ignore history, we are doomed to repeat it. Maybe we can modify that statement by saying that when it comes to Kerry football, it is only by studying our history that we can hope to repeat it. This book should be present wherever Kerry football is discussed.