Books
The Kingdom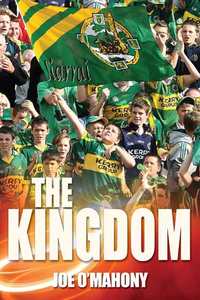 by Joe O'Mahony (
2010
)
Price: €13.59
Celebrate Kerry football in all its glory with this fantastic book.
Kerry is the football county. Winner of more All-Ireland titles than any other. It has never failed to win the Championship in any decade since the start of the twentieth century. Joe O'Mahony's book traces the history of the game in the Kingdom from its earliest origins, and explains why it has an almost religious hold over Kerry people.
The Kingdom tells the story of legendary players and administrators, from Dick Fitzgerald - the first big Kerry star for whom the stadium in Killarney is named; through to the four-in-a-row victors of the 1920s and 1930s; the great players of the mid-century like Mick O'Connell; the 1990s and noughties heroes including Seamus Moynihan, up to present-day stars such as Colm Cooper and Kieran Donaghy. In the 1970s and early 1980s, the county produced what is by general consent the finest Gaelic football team ever. That team stopped Dublin in its tracks, and went on to come within one score of winning an unprecedented five-in-a-row. Kerry supplied six of the football Team of the Millennium - more than any other county.