Books
Dail Stars - From Croke Park to Leinster House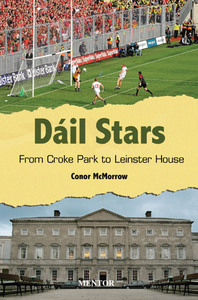 by Connor McMorrow (
2010
)
Price: €13.60
Explores the remarkable journey of how the GAA has been a breeding ground for Irish politicians for over a century.

In Dáil Stars, Conor McMorrow picks an All-Star team of politicians whose prowess on the playing field or in GAA administration has been matched by their success in Irish politics.
By devoting a chapter to each of the 15 'Dáil Stars' the book tells each player/politician's individual GAA and political story using candid interviews and archive material for the historical figures.
Among the Dáil Stars featured are Eoin O'Duffy, Austin Stack, Jack Lynch, Dan Spring, Jimmy Deenihan, Martin Ferris, Henry Kenny and more.
It includes:-
How Blueshirts founder and former Ulster GAA Secretary Eoin O'Duffy invited a Nazi spy to an All-Ireland final; and the story of the Monaghan football team's audacious jailbreak plan.
How Mayo football star and TD Henry Kenny, father of Enda Kenny, invited TDs to his own all-night 'wake' in the Dáil bar.
Sinn Féin TD Martin Ferris on winning an under-21 All-Ireland title as an IRA fugitive on the run and breaking his hand by hitting future Fine Gael TD John O'Mahony in the final against Mayo.
Fine Gael TD and Kerry legend Jimmy Deenihan on his heart-to-heart with John B Keane about entering politics;
Six-time All-Ireland winning dual star Jack Lynch and when the whiskey goes 'below Thurles';
How Seán Flanagan, the GAA's 'original Roy Keane', tried to scrap his own government department as a minister and how he took the Mayo backs to London to learn from the Arsenal FC defenders.
Des Foley, the Arms Trial and the medal robbery.
Plus the 'Substitutes' (more GAA politicians) and the 'Also-rans': GAA stars who unsuccessfully stood for election.