Books
From the Stones - A homage to place through painting and poetry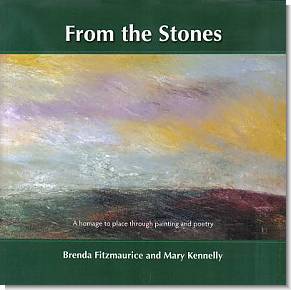 by Mary Kennelly and Brenda Fitzmaurice (
2010
)
Price: €20.00
From the Stones is a collaborative celebration of those influences that nourish and inspire us all. Working together
Brenda Fitzmaurice
and
Mary Kennelly
explore the importance of place and people and story. This work is an open love letter to their place yet within its pages we find resonances of our own cultural legacy and our daily concerns.
'But I know this is my place,
I could not be,
Myself in any other,
This place has made me,
What I am - I am,
Sky and wind and water.'


Poet, Mary Kennelly's language is powerful, emotive, fearless, and heartbreakingly honest. It braves the darkness of Ophelia's momentary peace; embraces the incessant rhythm of the stones; exposes the 'sellotaped' surgery of contemporary life; exults in a small boy's glory at 'the hoards in his mind.' Brenda Fitzmaurice's paintings are instinctual, beautiful and alive with colour. 'They poignantly complement forty five poems that blessedly illumine the self.'
-- Ann Egan

"If the energy of life is a desire for form, 'From the Stones' returns us to a world in which the pictorial and the poetic seek fusion. Though their arts are subtle and disparate, Fitzmaurice and Kennelly remind us that every impulse to make something beautiful is a recognition of the connectedness of things."
-- Declan Kiberd

"The painter Brenda Fitzmaurice and the poet Mary Kennelly have combined their individual, assured talents to produce this beautiful book 'From the Stones'.
It is a book of exuberant colour and expression that originates in the wisdom and richness of everyday life. They both achieve a wonderful simplicity in their directness and authenticity of their work. But it is joy in life that permeates this book and makes it an irresisstible pleasure for the eye and ear."
-- Jo Slade