Books
It Could be Verse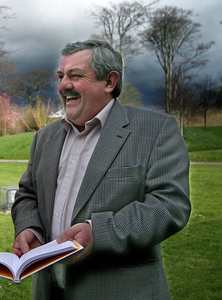 by Sean Lyons (
2011
)
Price: €10.00
Seán Lyons is an award winning writer whose work has featured in festivals throughout Ireland, from the Bard of Armagh to Listowel Writers Week. He is one of Ireland's best known writers of humorous poetry and has collected here some of his most popular verses. There is also a CD of Se´n reciting the poems in his inimitable style. All proceeds from this book and CD will go to the Ronald McDonalds House at Crumlin Hospital. The House provides accommodation and support for families of children in the hospital.
The book will be launched in Roundy's Bar, Tralee on Saturday, February 19th at 6.30pm. The book and CD cost €10 to buy from local shops and Se´n is currently looking for more shops to stock the book. If any shop is interested in selling the book they can contact
corha@ireland.com
.
The Great Roundy Landers
The heroes of Ireland are well to you known
From Brian Boru to Emmet and Tone
The Wild Geese who fought from Suvla to Flanders
And the Man from the Stacks, the Great Roundy Landers.

He wore the Green and the Gold with passion and pride
He led from the front from the back and the side
The Laois backs in '32 were no more than bystanders
As they looked on in awe at the Great Roundy Landers.

He was honest and true and decent and fair
He loved poor old Ireland and Kerry so dear
He never dealt in swindles in cheats or backhanders
A true son of Erin, the Great Roundy Landers.

He was as brave as ten lions, as proud as five eagles
As lively and determined as a pack of ten beagles
As sleek as six geese as swift as eight ganders
The legend, the man, the Great Roundy Landers.

He terrorised goalies and squashed opposition
They knew they were in trouble when he took up his position
He brought fear and dread to the hearts of defenders
The legend, the man, the Great Roundy Landers.

Some called him Roundy, some called him Tim
Whatever the name, it was equal to him
From the Antrim Glensiders to the Valentia Islanders
There's no greater gael than the legend Roundy Landers

32 was the year of the four in a row
The Kingdom faced up to the men of Mayo
And the hero that day against the Connacht outlanders
Was the legend they called the Great Roundy Landers

It is said that the world is divided in two
Those that dont and those that do
In a world thats split between saints and philanderers
You know where you'll find the great Roundy Landers.

So today as we rest in this neat establishment
And Tim looks down from his place in the Firmament
There is good drink and safe haven for all locals and wanderers
In the pub that is named for the great Roundy Landers.