Books
Forged in Green and Gold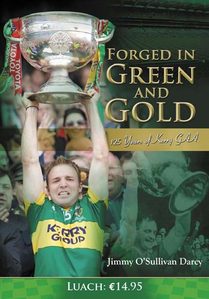 by Jimmy O'Sullivan Darcy (
2009
)
Price: €14.95
Kerry's Eye Reporter, Jimmy O'Sullivan Darcy has written a comprehensive history of Kerry GAA from its tentative foundations to the consuming passion it is today.

Jimmy freely admits that he isn't an expert on Kerry GAA. In a strange way that was actually part of the inspiration for this book. "I found that people who know the famous Kerry stories, Bill McCorry's penalty, Austin Stack's amnesty in 1924, Con Brosnan's captaincy in 1931, the 1955 final, tend to take it from granted that they are universally known. People forget that a lot of modern Kerry football followers don't know these stories and have no way of finding them out. I wanted to rectify that. Kerry GAA is a culmination of ten thousand stories and I wanted to get some of these written down."
While Kerry's intercounty football success obviously features prominently, the book also proudly references the many great hurlers and handballers who brought glory to the county right from our very first All Ireland in 1891, when the barefoot Ballyduff hurlers beat Crossabeg in the only All-Ireland to go into extra time. The development and significance of schools and colleges GAA, the spread of railway transport and the benefits and problems, such as the famous time in 1910 when Kerry refused to travel to play Louth in the All Ireland Final, the role of the clergy in developing community links and parish pride through the GAA, the people for whom the various Kerry Cups are named, the enormous role and incredible success of the Kerry Ladies all get examined in context.