Books
Poems of Faith and Doubt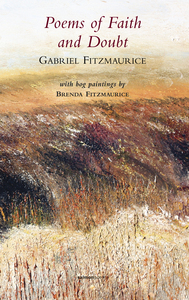 by Gabriel Fitzmaurice (
2011
)
Price: €9.60
with bog paintings by Brenda Fitzmaurice.
"The collection affirms, with a fine balance, a margin of hope in a battered but beautiful world."

-- Declan Kiberd
"Deeply moving. I bless your Road to Autumn!"
--
Les Murray
MORE PRAISE FOR GABRIEL FITZMAURICE
"[T]he best contemporary, traditional, popular poet in English".
--
Ray Olson, Booklist (US)
"Fitzmaurice is a wonderful poet".
--
Giles Foden, The Guardian
"One of Ireland's favourite poets".
--
Books Ireland
"Gabriel Fitzmaurice's…ballads…are comparable with Burns's for their insights and lyricism".
--
James J.McAuley, The Irish Times
"Fitzmaurice's elevation of Moyvane has resonances with Oliver Goldsmith's Auburn and Patrick Kavanagh's Shancoduff".
--
Brendan Hamill, Fortnight
"Ireland, particularly the South…finds its local bard in Gabriel Fitzmaurice…thereby making such 'singing' socially responsible in a way Wordsworth would have endorsed".
--
Francis O'Hare, The Honest Ulsterman
"[Fitzmaurice] is poetry's answer to John B. Keane".
--
Fred Johnston, Books Ireland
"We need poets who can probe reality like this, and Fitzmaurice is doing it in style".
--
Gerard Quinn, The Kerryman
"He has a gift for making the quotidian interesting and investing the ordinary with extraordinary significance".
--
Gearóid Mac Lochlainn, The Celtic Pen
"Gabriel Fitzmaurice finds truths that speak to us all".
--
Moyra Donaldson, Figments (Belfast)