Books
Liam, Sam, Strikes And Shemozzles: How Well Do You Know Your Gaa?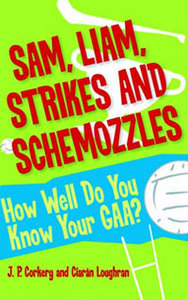 by J.P. Corkery & Ciaran Loughran (
2008
)
Price: €12.99
The annual quest to win the Sam Maguire and Liam McCarthy Cups inspires great action on Ireland's GAA playing fields. This engaging collection of 1,500 questions sets out to inform, entertain, and test all GAA fans. Each round of questions covers a specific aspect of the GAA and the chapter order takes the reader through the history of Gaelic games, the matches, the stars, the referees. GAA politicians, super subs, strikes, and hurlers on the ditch. Find out how much you really know about the who, what, why and where of the GAA.