Weeshie's Week
Chasing the Kerry Dream
November 16th, 2012
by Jimmy O' Sullivan Darcy -- Kerry's Eye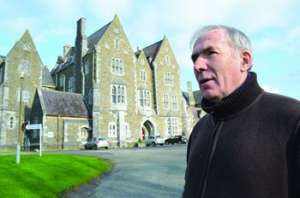 Kerry have always produced great commentators on sport, going back to the days of Paddy 'PF' Foley and stretching to include the great Micheal O Muircheartaigh, Micheal O Se, Liam Higgins, Pat Spillane, Dara O Cinneide……If O Muircheartaigh is the undisputed voice of the GAA nationally, then Weeshie Fogarty is inarguably the voice of Kerry sport.
Weeshie has seen it all from inside as well as outside the white lines. He has been a player of the top rank with his beloved Legion and with Kerry. He won All Irelands with the county and he was ever-present on the days when they won – and lost – All Irelands. He was a top referee at national level. He was also a well-known basketballer and had an early and obvious passion for every sport. It's easy to view Weeshie through the prism of Kerry football. It would also be a mistake – sport is a key part of Kerry life and more so in Weeshie's than most, but there are depths to Weeshie's life and wisdom locked between these pages that sport does not touch.
Family
Weeshie grew up in the forties and fifties in Killarney and remembers a bygone era with fondness but with frank appraisal. Emigration was rife in those days – a lovely touch is the inclusion of a letter written by a father to an emigrated daughter in 1946.
Weeshie's life has been touched by tragedy more than most, and it is clear that facing the loss of his parents, three brothers, his sister, and his beloved niece Karen is a part of Weeshie's perspicacity. He credits the faith of his mother, a faith that he clearly inherited in full measure, for that strength – "Her generation had something special; their great faith saw them through heartache and loss. I have learned a lot from her…….It does seem as if death has been at my shoulder all my life; I even feel guilty at times because I am the only surviving member of the family who is left at home in Killarney. But as the years pass and I attend their funerals, I know that I am fortunate to have so many wonderful memories of absent families and friends."
One of them was his close friend Liam Higgins – they travelled the highways and byways together following Kerry football, and Weeshie pays eloquent tribute to his fellow commentator.
As I said, this is not a sports story; this goes far deeper.
St. Finan's Hospital
"I dedicate this foreword to those lovely men with whom I sat and nursed during those long, lonely nights as their lives ebbed away, men who were laid to rest with just a handful of people by their graveside and were remembered by no-one. This is for them. It is little, but I have an overpowering need to mark their lives."
Weeshie started work in St. Finans Hospital in 1962 and worked as a psychiatric nurse for 38 years. St. Finans was as much a place of sorrow and loneliness as hope and redemption, but Weeshie and hundreds more dedicated their lives to alleviating suffering. He doesn't gloss over the sorrows – the over-use of ECT, bringing in patients under care orders, and most especially the sadness and gentleness of patients going to their final rest – but the sheer humanity and compassion that was a hallmark of Weeshie and his colleagues is there too. There is even an eye-witness recollection from a patient of the times. There was a stigma to mental illness for long decades – Weeshie candidly welcomes the more modern empathy and doesn't shy away from right or wrong.
This story is beautifully told – and is one that needed to be told.
Kerry Football

One of Weeshie's next door neighbors when he was a small boy was Legion stalwart Joe Smith, and on one fateful day in the early fifties he presented Weeshie with the present of an old, moth-eaten book with dog-ears and a torn cover. PF Foley's 'Kerry's Football Story'. That was it; it was the start of an obsession. Weeshie goes through the story of Kerry football from 1948 on, often quoting directly from the great participants themselves and keen-eyed observers like the legendary Dan Keating, and including a lot of stories that haven't been known – Mick O'Connell paying his respects at Paddy Kennedy's funeral, Kerry's ill-judged preparations for the 1960 All Ireland Final, Johnny Culloty's game-clinching save against Sean Evans of Offaly….and many, many, more. He picks his own best fifteen for a Kerry team and unhesitatingly among the many great games he recalls picks the 1976 Kerry/Cork clash as the greatest.
One particular gem is a simple, clear, and concise account of Kerry's training sessions, the type of laps and drills that made the Kerry machine what it was. As Weeshie himself says "So there you have it: a snapshot of the training routine in the time of trainers like Con Brosnan, Dr. Eamonn O'Sullivan, Dr. Jim Brosnan, Jackie Lyne, and Johnny Culloty. You may well say it was fairly primitive, but examine the record. There you will find the evidence of a county able to evolve and change its styles and methods, more so than many other counties. It is the record of Kerry's success."
Kerry Radio
Weeshie has always had a deep core of faith to sustain him, but he is very ecumenical in sporting matters. Gaelic football is, of course, his first and primary love, but he is a fan of all sporting endeavors and his coverage on Radio Kerry is a broad and compelling canvas. Many of them would be forgotten but for Weeshie. Paddy Kennedy. Phil 'The Master' O'Sullivan from Tousist. Eamonn Fitzgerald, the great Olympian – it was Weeshie who sought out that lost and lonely grave. Gillian O'Sullivan adorns these pages, Paul Griffin, Damien Foxall of the ocean waves, John O'Dowd of the mountains, dynamo John Griffin, Mary Geaney, Mick Galwey, the Cases of Sneem….snooker champion Steve Davis shows up in a lovely moment….
All of the greats pop in an out intermittently of these pages. Why wouldn't they? Isn't Weeshie one of their own as much as he is one of our own? 'My Beautiful Obsession: Chasing the Kerry Dream' will be launched on the Gleneagle Hotel on November 16th by Kerry footballer Maurice Fitzgerald. Gabriel Fitzmaurice will be MC on the night and all are very welcome.